Hi All !
No blog for last week....... I didn't go to Warwick Farm for the Chipping Norton Stakes - the first running of the race I have missed. Instead I'd spent a lovely afternoon witnessing my sister and her husband married again....the wedding itself was in gorgeous Koh Samui Thailand back in July last year . This time it was a just immediate family attending a small ceremony at the registry office to make it official in Australia. We all then ventured down to Wooloomooloo for a lovely lunch on the wharf at "Otto's". Yummy food, wine, view and more importantly SUN was enjoyed by all !!
The sun was short lived however when saturday (Randwick Guineas) morning was gloomy and showery. Typical. I'm sure I've said it before but I'm convinced Randwick is cursed whenever the big carnival days are upon us. Not pleasant conditions for any of us media, owners, trainers, strappers and horses ! No point cursing about it, I think we are all used to it by now and take it in our stride.
The old Randwick is now gone....demolition and destruction make up the scene all in preparation for the grand plan of a world class racing facility. It's certainly needed . If we are to be a major player on the world stage, a facility like this is essential for Sydney.
Of course the racing was great...things are really hotting up on the racetrack this time of year and the cream starts to rise to the top. The track itself was a picture and in prime condition, what a pity Sydney had to dump rain the night before and we had a slow 7. A lot of horses are still crying out for a drier track to enhance their ability. Others love the wet and the "good" ones handle all conditions thrown at them.
OLDER THAN TIME (pictured) is ticking along beautifully for the longer races, watch for her in the Sydney Cup. A lovely grey mare Fibrillation (pictured) took out the race, loving the wet conditions ahead of Cabernet and Older Than time in third.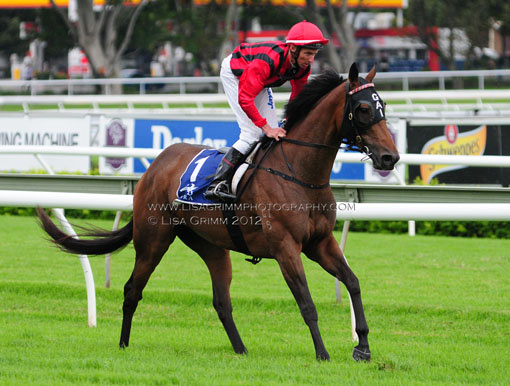 The Skyline Stakes for the boys, another lead up to the all important Golden Slipper. ASHOKAN (pictured) defeated the former Golden Slipper favourite Raceway, who tasted defeat for the first time. He did pick himself up Raceway late and claimed 2nd on the line. Ashokans jockey Jim Cassidy said it was an outstanding win, he dug deep and was all class.
Now for the girls, the Sweet Embrace Stks. Confidence is brewing now in the Chris Waller camp after JADE MARAUDING (pictured) burst through to take the Group 2 event. She is a bomb proof racehorse and a hot slipper tempo will suit the daughter of Fastnet Rock. Speaking of Fastnet Rocks, how good are they all going right now !! VALERIO went super from a wide gate, got a little lost in the straight when she was there by herself but boxed on only to be beaten by the winner. Kyria was 3rd and is desperate for a dry track, so her effort was good in these conditions.
MAULES CREEK took out the Randwick City Stakes ahead of an encouraging 2nd from Herculian Prince. He's racing into his own again Herc and is finding the form he once had when he took out the Group 1 Metropolitan. Nash commented he deserves his chance in the BMW this year. What a super race is the BMW shaping and no doubt will be right up there as the highlight of the carnival. A previous BMW winner in FUIMICINO (pictured) looked outstanding in the yard with his dapples showing run a terrific race for 4th. We thought he may run a race by his appearance and he loves the slow tracks. The two likely options for Maules Creek are next Saturday's Listed Sky High Stakes (1900m) at Rosehill and the Group III Neville Selwood Stakes (2000m) on Golden Slipper day, April 7.
I was looking forward to NIAGARA's (pictured) return to the track. What a stunning horse. I last photographed him when he was running in the VRC DERBY. He has Group 1 potential no doubt and is well on his way after his good 2nd to stablemate NOBBY SNIP who was rock fit. Nash declared Niagara a Doncaster horse ! Nobby (pictured) is a little winner in his own right and is putting together an imposing race record ! AEROBATICS tried her best and went well for 3rd.
Well there is no doubt there is an incredible "Machine" within MOSHEEN !! No filly has ever won the Randwick Guineas and she is in the record books as the first to do so. The Oaks, Australian Guineas now the Randwick Guineas all at group 1 level....where does it end, this girl is on fire and I'm sure it will continue. What a race if she should meet Atlantic Jewel in the near future. Many are saying that AJ is leaps ahead, maybe true but Mosheen has gone up another 2 gears in my opinion and is a better horse now than she was ! Will make the contest mouthwatering ! Throw in that mix STREAMA, Sydneys little queen, I love her spirit and heart and she will be there when the whips are cracking ! Enjoy these shots of Mosheen's Randwick Guineas !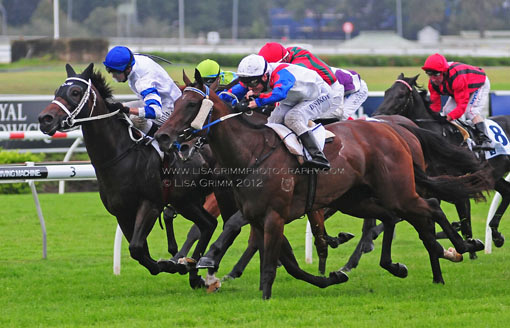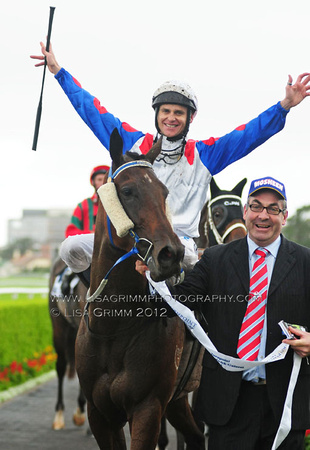 What a feelgood story to finish the day with ROSE OF PEACE (pictured) feeling the love with her connections after she won the Listed Wenona Girl Hcp. A fitting St Patricks day gift for her owners being Irish winning the race paying $124 the win ! I don't think I have photographed a 100-1 winner before so she's a first for me ! Good on her ! It's nice to see this...horses that are given no hope on the day , have their time in the sun !
Until next week....Myer Ladies Day at Rosehill featuring the Group1 Coolmore Classic and Ranvet Stakes and a feast of group racing ! One of my favourite racedays on the calendar !
L :-)