It's the 29th of March and I'm writing this blog from the serenity and peacefulness of Turon Gates located about 70 kms this side of Mudgee. We are the only ones here and have the place to ourselves…
I'm sitting by the river at our campsite, listening to little wrens and the flow of running water while the kookaburras look on. It's very difficult to switch the brain on but I figure I must do this blog now as I will not have the time to do so when I come home tomorrow. Then it's Rosehill Guineas day Saturday and I will be backlogged !
Ranvet/Coolmore day was just perfect ! Don't we wish we could bottle the day and have all our racedays like this, perfect weather, conditions and racing. The horses looked magnificent, their coats and dapples just gleaming in the sunshine.
The Todman Stakes. What a little fighter is PIERRO (pictured), he was headed a couple of times in the straight by the Darley runner EPAULETTE, but fought back again when it counted to win the race by a short half head. Out of Gai's slipper contenders, he's always been my pick for the big one ! He is gorgeous and loves the camera, my best headshots of him yet. The hectic pace of a slipper will suit him and if the dogfight is on at the 200m, he'll give it everything when the whips are cracking !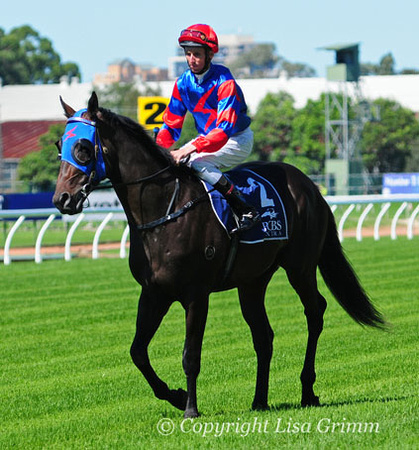 Onto the girls version, the Reisling Stakes. SAMAREADY (pictured). A serious contender for the Golden Slipper crown and to my little boy Pierro. Yes, she deserves to be favourite ! She toyed with her opposition and beat them convincingly. It was fantastic to see her in the flesh for the first time, and accordingly took plenty of snaps of her ! Trainer Mick Price said there is a big V8 motor in that little filly, while jockey Craig Newitt said she was much better going the Sydney way of going compared to the Melb way.
Small team trainers always dream of having atleast one star in their stable and for Craig Carmody his little star is SINGLE (pictured). His dreams have even loomed larger including the Doncaster Mile for Single. He gave the trainer his first stakes success by winning the Listed $100,000 race. He's a lovely little horse who tries his best in his races and may the run continue ! It was also great to see the 8 year old Fiumicino strike some form in his last two runs. He is one striking old fella, big and strong with dapples just blazing in the sun. I knew he would run well again. He hasn't won for 2 years since his Derby and BMW triumphs but maybe there is one more in him perhaps !
The queen of Sydney racing is back - MORE JOYOUS (pictured) , and she was exactly that beating a very good field of stars in the Group 2 Canterbury Stakes. The placegetters ran very well as some of those were having their first runs back. METAL BENDER don't under estimate him – a very good racehorse when fit (Has the Chris Waller polish on ). No surprise for me to see him run 2nd. He's a winner. Monton, Sincero, Love Conquers All ran terrific. Naughty boy Albert The Fat up to some antics in the enclosure…..making a mess of the rose bushes and throwing his jockey off ! When he cantered past he had some blood on his bum from the thorns of the rose bush….you could kiss his run goodbye !
Gai Waterhouse said she was vulnerable on the day. We had noticed in the mounting yard her coat had not come through yet. and looked beaten at the top of the straight but as champions do they find something extra , a burst of excelleration and her will to win to get the job done. Nash just loves her to death, she's special to many and those who work with her. None more so than her strapper and faithfull one Dave Meijer, the bond is obvious between the two. I have hundreds of images of them together, which Dave has a few that I have done for him. She is just amazing and has only be beaten once in Sydney since 2009, and that was on a terrible wet track in last years Doncaster. Fingers crossed the rain stays away this year please !!! This champion girl deserves her name on the Doncaster trophy. No one would begrudge her that.
The RANVET Stakes MANIGHAR (pictured). Always a good indication for the stayers going into the Group 1 BMW on slipper day. Peter Moody, what an outstanding trainer. This man is a genius perhaps or Manighar loves racing in Oz ! Both I think. Under his care he has won his last 3 of 4 runs for Peter since his staying days from last years Melbourne Cup where he run 5th to Dunaden. I backed Manighar in the cup, he looked so well before the race and he ran so well ! He certainly is a rejuvenated racehorse but he had to fight hard for the Ranvet. RANGIRANGDOO is back with a bang god love him…he's had issues his whole life and Chris Waller has nursed him back to his brilliant best. His not at the top of his game yet and will only improve again. I'll be having a sneaky bet on RANGI in the Doncaster, he's won it before and remember, it takes a very strong 2000m horse to run the tough Randwick mile (1600m) !
Three cheers for Kathy O'Hara…you've done it, finally winning a group 1 aboard the mare OFCOURSEICAN (pictured) in the Group 1 Coolmore Classic ! Kathy really is a brilliant rider, I've always hoped for years she'd get better mounts or have the opportunities to do so as she would be winning many more of them ! Maybe the trainers will giver her a go now ? Let's hope so. Well done to trainer Ron Quinton too, I remember fondly growing up watching Ron on that champion grey mare Emancipation having epic duels with Sir Dapper ! I had my fingers crossed for the little filly Streama….yes it was a big ask running against the more seasoned older mares but a 5th placing was good considering and I'm sure she will comeback an older mare and take out this very race ! Kings Rose and Secret Admirer are on track for their main autumn goals.
Teenage riding sensation from NZ James McDonald scored a great win aboard the John O'Shea trained COLORADO CLAIRE and was awarded the Golden Slipper mount on John's runner ASHOKAN immediately after the win. He really is the talk of the town, the natural gift he has riding these horses and winning on them.
So what a day it was…. The carnival is in full swing now and the racing is going to be mouthwatering leading into the Sydney Carnival !
Chat next week after the Rosehill Guineas Day Meeting !
Happy Racing ! L