After all the flooding rain we have been having across the state, I was dreading the afternoon at Rosehill Gardens and was prepared to get very wet. Not my ideal work conditions by any stretch as it makes it so difficult. The lighting is always poor and I certainly don't want to get my equipment wet . And to top that off, all our gorgeous equine friends don't always look their best because of the conditions.
In saying that the rain gods decided to give us some reprieve and the worst we got was a couple of brief drizzling showers. Most of the day it was dry ! I am convinced though Sydney is jinxed when it comes to our major carnivals and the Group 1 days to be specific, we can't seem to take a trick of late ! There have been some shocking days for the feature races. Let's hope it's a thing of the past and we are presented with glorious autumn weather this carnival !
Darley was first and second across the line in race 1. DETOURS(pictured) held off her stablemate AEROBATICS, both handling the conditions well.
MERLIN MUSTANG (below) perhaps a little under rated going into this won well, following up on his hard fought finish of last week against LASER HAWK. He is a lovely looking gelding and returned to scale with the ears pricked !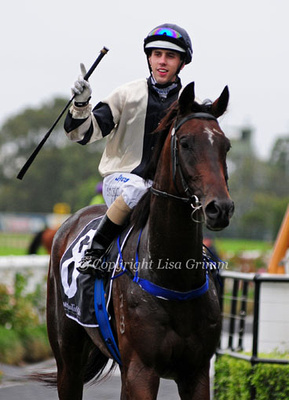 NOBBY SNIP (below) is starting to produce a good race record. Now 6 starts 4 wins and a second. He was most impressive on his return to racing at Canterbury winning by 6.5 lengths back on Feb 17, exploding away at the 200 ! He won well the Fireball Quality on the weekend and I'm sure he will go on to bigger things. His victory was the first of a winning treble for the Gai Waterhouse stable. Tommy is riding well too !
It was good to see PRAECIDO (below) in the winners circle, which I might add is not very often ! These horses are thereabouts when they step out season after season, try their best but find it difficult to win. So I say good on them when they do !
As some of you may know, I do take a lot of images for the Gai Waterhouse stable and they are posted regularly on their website. I had my hands full today going through all the images I took of their 3 winners - PIERRO, NOBBY SNIP & WILD AND PROUD ! Keeps me busy !
Gai has always had a strong hand in the Slipper, and it's no different this year. They all are very good 2 year olds, the cream of those will rise to the top and take it's place in the final slipper field. I have a little soft spot for PIERRO (below), so out of Gai's nursery he's my pick for the Slipper :-) His dad the mighty LONHRO is my favourite horse and I would dearly love him to sire a Slipper winner ! So cmon Lonhro too ! It really was an outstanding run to win the Silver Slipper considering he missed the start and came out last. Not many babies can recover and on a heavy 9 track mind you , pick themselves up and go onto win. I think he is in the slipper up to his ears. I'm wary of the little victorian girl SAMAREADY...isn't she something !
The other feature of the day saw WILD AND PROUD (inside) at big odds thankyou very much, take the Hobartville Stakes in a protest. It was a terrific effort from the Snowland gelding digging deep and fighting it out with MANAWANUI. Will be an interesting Randwick Guineas in a fortnight. Poor Hot Snitzel, copped a nice bump in the interference and had to pick himself up again, easing up on the line.
The final group race of the day saw the mares step out in the Millie Fox. It was a shame this group 3 race didn't have many starters in the end. RED TRACER (below) loves soft tracks and was not to be denied taking out the race. She also has fantastic race record where she has only been unplaced once in her career. 15 starts - 7 wins - 3 seconds - 4 thirds. For a stayer OLDER THEN TIME finished off nicely for her distance assignments ahead.
Hope you all enjoyed the day and it was a winning one !
Until next time, L