Epsom Day rolled around again for another year - always a great day on the Sydney Racing Calendar for a couple of reasons. The time honoured Group 1 Epsom Hcp, like the Doncaster is a hard fought tough mile race run at Royal Randwick. The cream of the crop compete in it. There were so many chances this year, I liked a few runners but my heart was with Streama. As some of you know she is a little favourite of mine, love her guts and will to win . So thrilled for her an her connections after her big Group 1 George Main win 2 weeks earlier and she did not let me down in the Epsom !
One of our perks or not ideal situations when photographing is when the horses are spread apart on the track, especially in the concluding stages of a Group 1 !! Don't know where to look and you just have to make that call, inside or outside ! Most of the time you get it right. Of course I went inside - Streama and her stablemate Toydini were fighting out the finish..or so we thought ! Got those shots then a quick turn to the right when we hear " Here comes Boban " . I still thought in real time Streama had it, but alas she was denied in the tightest of finishes, perhaps an inch. Full credit to the winner BOBAN, what an extraordinary run when watching the replay a couple of times. He ran into trouble a couple of times during the run and was shifted to the back, probably thinking he couldn't win from there. Boban (below) and jockey Glyn Schofield were as cool as you like and went round the field like a breath of fresh air to win in the tightest of photos we've seen in an Epsom for sometime. Certainly had that Randwick crowd tense for a few minutes ! Another group 1 to Waller Racing, the juggernaut rolls on !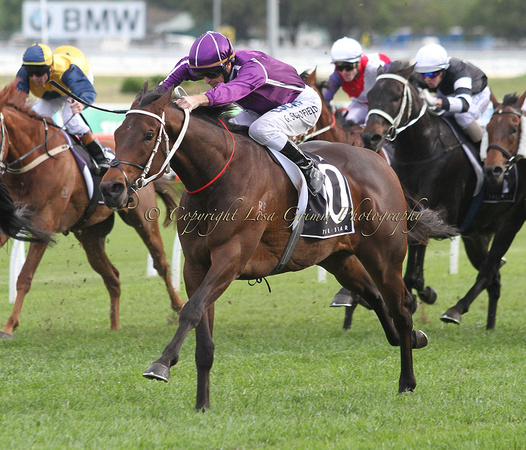 Hugh Bowman & Blake Shinn oblivious to Boban flying down the outside
2 feature highlights of Epsom Day are the first 2 year old races of the season, exciting to see all the babies take to the track for their first big day out at the races ! The Gimcrack is for the girls and the Breeders Plate for the boys. The latter has an exceptional record for the winner to be very well placed if not winning the Golden Slipper in the following autumn. Recently Gai has made it her own, Pierro in 2011, with that famous quote " He will win the Golden Slipper " ! To think what this brilliant colt and son of Lonhro went onto achieve is stuff of dreams, now a triple crown winner and no doubt a champion sire of the future standing at Coolmore Stud. Whittington for Star Thoroughbreds in 2012 and again this year Star salute again with the striking colt LAW (below) who is by freshman sire in Denman, he too is sired by the great Lonhro. I LOVE this breed and the progeny and will always follow them close to my heart. Not to mention what cracking looking individuals these horses are !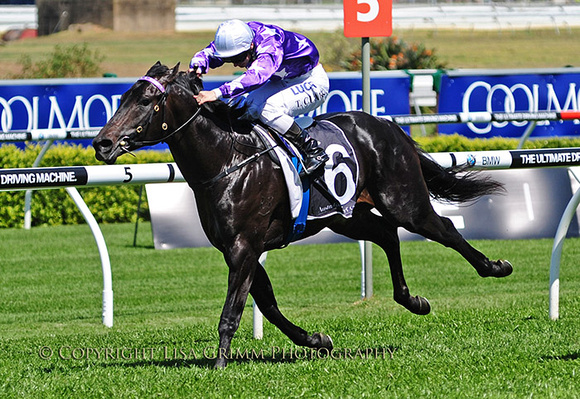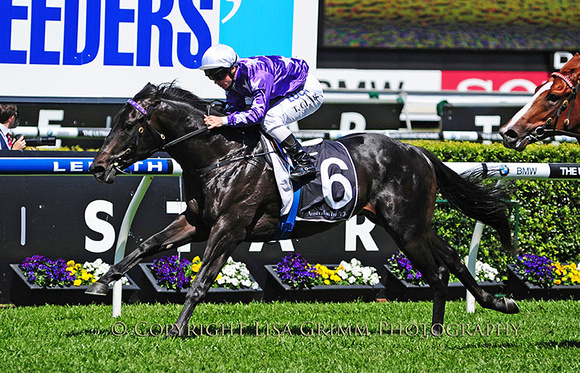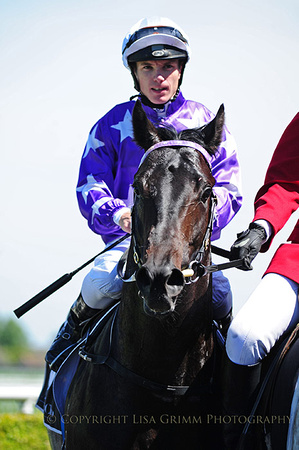 ALPHA MISS (outside) takes out the Gimcrack for the fillies.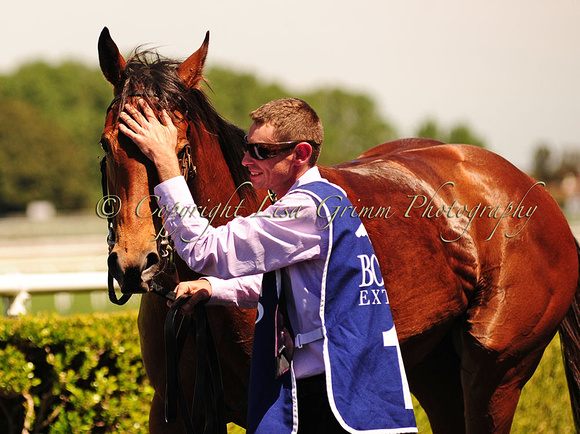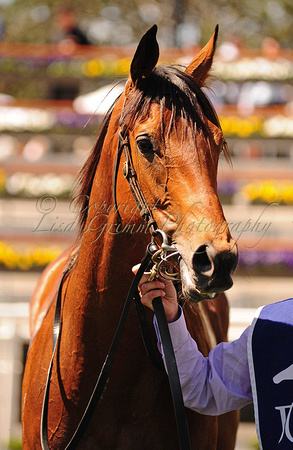 There's a superstar in the making , his name ZOUSTAR (below). Already the Golden Rose champion, everyone was eagerly awaiting the Roman Consul Stakes to see what this boy could do. It was safe to say I guess he would win, but like this, treating his opposition with contempt, wow !! Bring on Melbourne, what an exciting horse, look forward to photographing him once again soon. His value has soared and he is highly prized stallion prospect as I type...who will secure the deal ? Sentimentally, I would love to see him return to where he's gallant father stood at Widden Stud, rip Northern Meteor.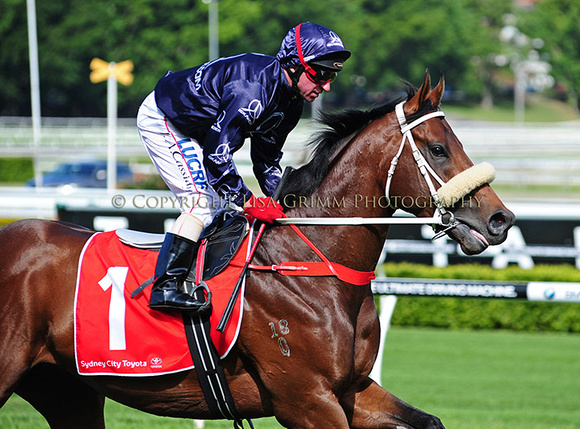 It always is a fabulous day Epsom day but on a day of highs it ended with lows with the Waller team losing their lovely Lucripetous (below), may he now rest peacefully.
The Group 1 Metropolitan was won by SEVILLE (below) for trainer Robert Hickmott. Another player for team Williams leading into the big staying features of the Spring. It was a good tough win and ridden perfectly by Hugh Bowman. Julienas back to his best with a close 2nd.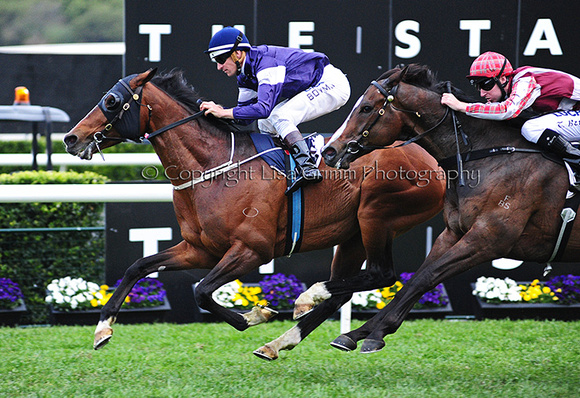 One of the most popular grey girls is non other than ARINOSA (below) - she has a little fan club happening and who wouldn't love her, she's amazing and always tries so hard. She lunged that pretty little grey head out on the line to take victory in the Premier Stakes, Group 2. It was a tight finish just a length separating the first 3 or 4 !
GUELPH (below), what can you say, the Darley trained filly is taking all before her, she is big and strong now, a ball of strength. A joy to watch winning this the Group 1 Flight Stakes ! Since this post she has gone on to win the Group 1 Thousand Guineas, her 4th Group 1 ! I remember photographing her mother, Camarilla, a group 1 winner in her own right winning the Sires Produce Stks Group 1 in 2007.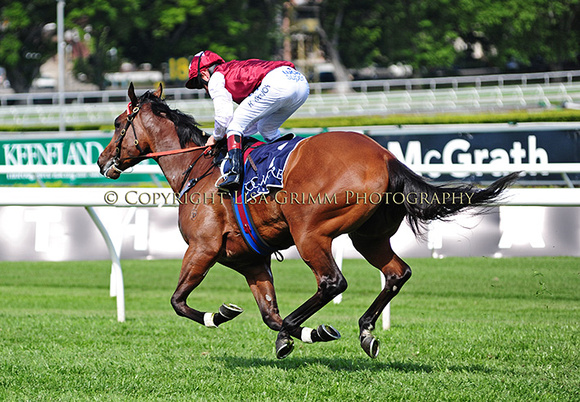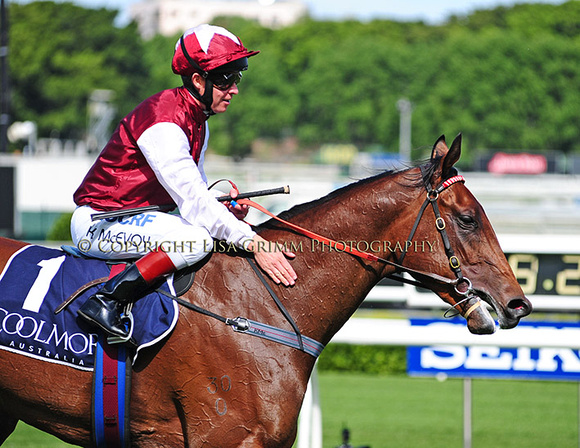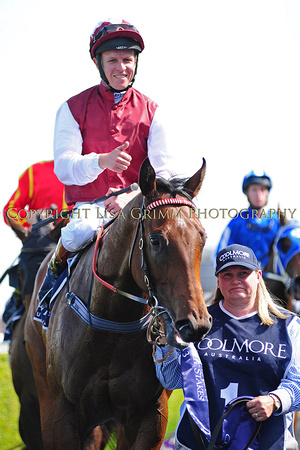 Honorius (below) and James McDonald (inside) took out the Craven Plate.
Rock Hero (below) won the Dulcify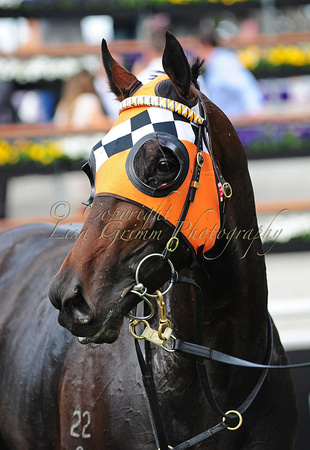 Stay tuned for " THE HULK " my tribute to the wonderful Hay List ! Until next time , L